SMART IPTV Subscription 12 Months
$49.01
Smart IPTV subscription 12 months for Smart TV
لتشغيل اكثر من 5 الاف قناة smart iptv اشتراك في تطبيق
و افلام و مسلسلات و كرتون OSN كذلك bein sport/movies وكثير من الباقات العالمية منها 

for SAMSUNG Sony LG Smart TV.
Specially designed for Smart TV: "Smart IPTV" applications
unique experience of its kind with HD graphics quality.
Description
Smart IPTV subscription 12 months for Smart TV
Smart IPTV Subscription If you do not already have the  SMART IPTV application  installed on your Smart TV, install it from the Play Store here  this application offers you 7 days of free trial, after the expiration of the trial period, you must activate it at 5.49 € on the official website of the application  .  
On some Android Boxes, it is possible to encounter a problem of incompatibility of the application on Google Play, to solve this problem, you must install the application manually, go to this page and  download the APK file and install manually on your BOX  
To find the MAC address of your Smart TV just access the application on your Smart TV Samsung or LG or any Smart TV or Android Box with an Android system, on the main screen. application you will see your MAC address as shown in the picture below:
Please enter your Mac address in the cart at the time of purchase
NB:   If your smart TV "  SAMSUNG  " has the possibility to install the application "  smart iptv  " available on the store of your tv, and later open it then get the MAC address that will be used for activation remote, then this subscription will be compatible with your Smart TV.
How to configure the Smart IPTV application?
. For LG TV users, you can get the app via  LG Apps Store  , which you will find in the category (Entertainment).
. For Samsung TV users, you can get the app via Samsung Apps Store. In the category Video
. For Android users, you can download the app from Google Play Store or download the APK file.
Step 1  : After installing the application on your computer, open it and the interface will appear as shown below. Copy the Mac address because you will need it in the next step
                 to start enjoying our smart iptv subscription service, order now
Step 2: Access the Siptv.eu website  , we have two methods can be chosen to add IPTV as shown in the picture below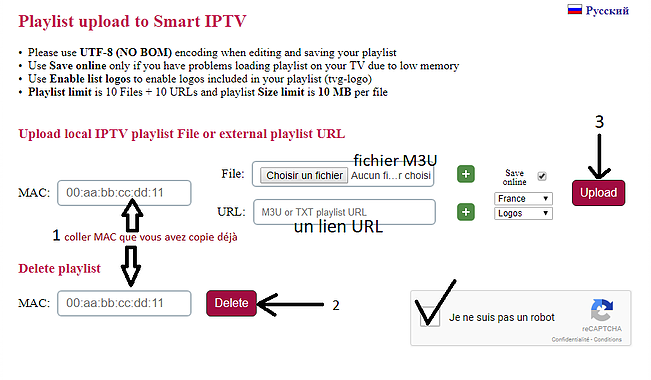 1. If you have a M3U file saved on your device, you can choose the first option by entering the MAC address that you already have copied in the previous step, and then download the file.
2. If you have a URL link, you can choose the second option by entering the MAC address and the IPTV URL.
Step 3: Now click on the "Add Link" icon or download it according to your choice and wait until the download message appears: 1URL Added! Restart the application